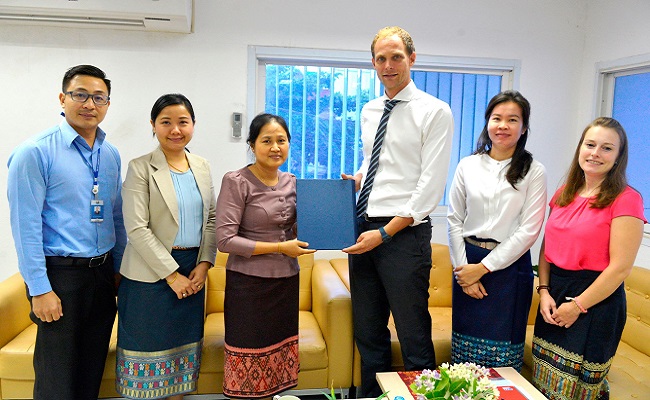 19 ​ພ.ຈ.

Summary Introduction "Lao Access to Finance Fund"

1. Project
Bilateral German-Lao Development Cooperation.
Grant funding to the Lao PDR, Ministry of Finance.
Ministry of Finance channeled to Bank of Lao PDR to manage (BoL = Project Executive Agency).
2. Principal
Initial principal EUR 3.0 million.
Accrued interest EUR 1.0 million, on separate account.
Additional (2020) EUR 6.0 million.
Total (2020) EUR 10 million.
3. Interest income
Expected annual-interest income (2020): EUR 1.0 million.
BoL can propose usage for its own benefits (e.g. trainings, exposure trips).
4. Characteristics
Project-based: no legal personality, contracting in name BoL
Wholesale debt-finance facility in LAK: loans to banks and DTMFI (PFIs) in LAK
Market based:
interest rate charged to banks and DTMFIs is in line with comparable liability funding;
No interference in PFIs' credit policies (e.g. selection of MSE-borrowers);
No interference if PFIs' marketing strategies (e.g. type of sectors, locations, pricing of loans to MSEs)
Conditional:
Strategic interest in lending to MSEs, including informal enterprises;
Institutionalization of term lending (loans with duration of over 1 ½ year duration);
Outside urban areas of Vientiane Capital;
Minimum 30% for agricultural activities.
5. LAFF-Project Management
LAFF Steering Committee (LSC)
Mandate: Oversees and signs-off loans to PFIs, and annual workplan and budgets for LAFF's Management. Requests and receives external-audit reports.
Composition: Deputy Governor (Chair), DG of BOD (Vice-Chair), DDG of BOD, DDG of BSD, DDG of FISD.
LAFF Management Unit (LMU)
Mandate: Management of operations, external and internal communication.
Director: Responsible for effective management in accordance to project's principles. Reports to LSC. Manages relationship with BSD and FISD (see below).
Secretariat: Internal and external communication, the latter including the logistics of the Call for EoI process; preparation annual workplan and budget. Supports Director.
Loan Allocation Preparation subunit: Does financial analysis and due diligence of EoI-applicant banks and DTMFIs. In many ways the most important part of the overall governance and operational structure that requires high-levels of expertise. Prepares credit memorandum for LSC.
Loan Administration and Reporting subunit: Makes loan contract; issues notifications for installments of interest and principal; requests reports from PFIs; administers the LAFF portfolio and reports on it. Another main part of operations.
6. Involved External Stakeholders
BSD and FISD: do repayment-capacity assessment and due diligence screening for and on request of the Director of the LMU based on off-site reports and on-site inspections.
KfW: have to give no-objection to main LAFF-management decisions (e.g. LAFF-lending, annual workplan and budget).
External Consultant: to be hired by LMU to support LAFF-management processes, funded from LAFF-interest income
External Auditor: external audit and evaluation reports, to be instigated and received by LSC, funded from LAFF-interest income.
AFC: technical assistance provider.
7. Technical Assistance
LMU Director and LAP: financial analysis, due diligence process, Excel-based, with written explanation and in-person teaching.
BSD and FISD LAFF-Teams: repayment-capacity assessment and due diligence processes
LMU Director and LAR: Excel-based LAFF-loan portfolio administration and reporting; loan-contract screening, with written explanation and in-person teaching.
Operational Manual: Codification management and operational processes.