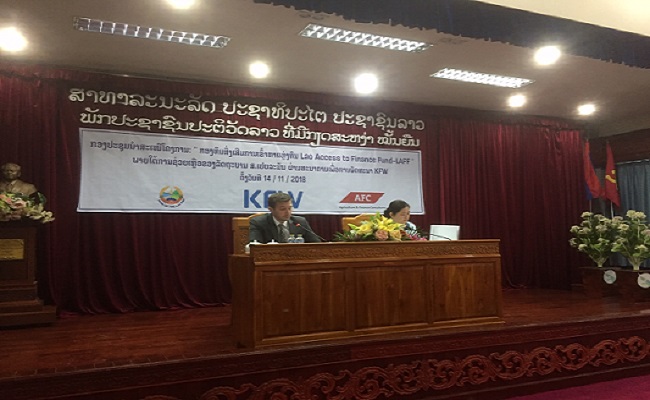 19 ​ພ.ຈ.

Germany provides additional funds for LAFF

VIENTIANE (Vientiane Times/ANN) – The grant of 0.8 million euros was provided through Germany's KfW Development Bank.

Germany has committed 0.8 million euros for the Lao Access to Finance Fund (LAFF) to strengthen capacity building and training of the Bank of the Lao PDR (BOL) and partner banks.

The grant in the amount of 0.8 million euros was provided through Germany's KfW Development Bank.

The handover ceremony took place on Tuesday at the BOL in the presence of Director General of Banking Operation Department, BOL Ms Fongchinda Sengsourivong, KfW Country Director Lorenz Gessner and a representative of Ministry of Finance.

"The additional grant for the Lao Access to Finance Fund will further strengthen the banks' capacity and quality participating in the fund which will have in turn positive effects on the overall services provided by the banks to the private sector in order to develop and expand," Fongchinda said.

"The consulting services for delivering training and capacity building to the BOL and the partner banks are vital components for reaching the overall and specific objectives of the programme, which is the support of the commercial banking sector in Laos in providing sustainable and needs-based financial services for poor households and micro, small and medium enterprises (MSME) in rural areas," cited KfW Country Director Lorenz Gessner.

According to KfW, the first bank participating in the LAFF is ACLEDA Bank Lao, which has successfully disbursed more than EUR 3 million over the last two years to MSME in Laos with an average loan size of 2,600 euros.

The programme objective is to facilitate the access of MSME to long-term finance in the domestic financial sector by offering eligible partner banks a target group oriented refinancing facility, which is aligned with the existing business environment of the local banking system.

The rationale of the focus on MSME is the expected above average impact on poverty alleviation through job creation and income generation.

KfW Development Bank is Germany's leading development bank and an integral part of KfW. It carries out Germany's Financial Cooperation with developing countries on behalf of the Federal Government.

It goals are to combat poverty, secure peace, protect the environment and the climate and make globalisation fair. KfW is a competent and strategic advisor on current development issues.